slotsup
rtingds
Returning Heroes Home provided more than just one building, one garden, one park. Along with the U.S. military, we are helping to support hundreds of lives. RHH is about serving the wounded, ill, and injured Warriors. It is about their spouses, their children, their parents, and friends. It's about life altering situations – from taking tiny steps toward recovery to being able to navigate around Freedom Park with surety and confidence. It's about moving from sadness and worry to finding and regaining hope. When you contribute to Returning Heroes Home you are providing the resources that encourage hope and recovery.
We've heard from moms who come to the facility to visit sons and daughters, who use the kitchens to make their favorite meals and keep their spirits up. Your funds ensure that we can keep the kitchen stalked so a recovering Warrior can enjoy Mom's one-of-a-kind homemade oatmeal cookies, and can remember and savor the taste of home.
We see our Warriors gathering together in the media room, playing video games, keeping their spirits up and re-establishing camaraderie with those around them. Your gifts allow us to make sure these systems stay up-to-date and that we have the facilities queued up and ready for their access if they need to ward off sadness, loneliness or anxiety.
We see Heroes determined not to let tragic incidences of their past determine the success they can achieve in their future. The WFSC's Education Room gives them access to training tools and technology to help ensure they succeed.
We see the impact on the men and women who visit the WFSC daily and we know we have a direct impact on their ability to connect, refresh, and rehabilitate. RHH and the U.S. Military provides and enriches the lives for those who have endured the tragedies of war, through an environment designed to promote healing, reduce stress and anxiety, and give our Heroes as much comfort as their own cozy homes.
While hostilities may have subsided, our Soldiers still endure severe injuries while on active duty, while training in real life combat activities, and are vulnerable to illnesses. That means the need for supportive programs and medical treatment for wounded, ill and injured Warriors still exists.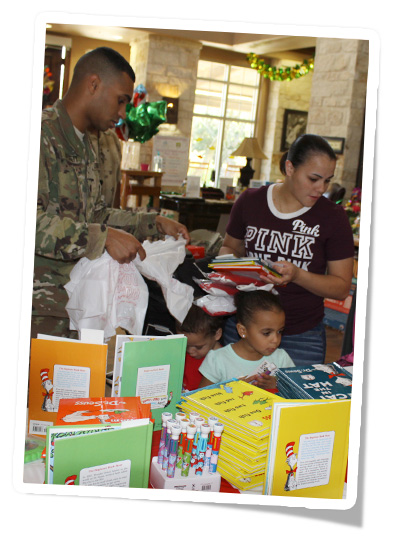 Your funds help RHH support the programs, events, and activities available at the WFSC, so that our Warriors and their Family Members have optimal resources at their disposal, allowing them to walk, run, and even climb the road to recovery.
Are you ready to make an impact and help our Heroes? Your donations will help support the programs, events, and activities at WFSC that enhance healing and promote family and social interactions while offering a sense of home to Warriors receiving medical treatment at SAMMC. You can rest assured knowing that your donations will be used to improve the quality of life for Warriors and their Family Members. Donate today.
This facility is absolutely necessary for the well being and progress of our Wounded Soldiers at BAMC, SFAC. This group knows what our soldiers need and without fail meet and exceed each challenge.
Judith and the staff and everyone that I have met here while my son was recovering provided me with 100% more support and encouragement than our home town community. Without this support and encouragement I know that it would have made this journey more difficult if not impossible.
When my husband was medivaced from Iraq, he had no idea these facilities were here. It was an oasis for both of us. The staff went out of their way to help us and answered so many questions for me.